2015 RPCV International Calendar
International calendars produced by the RPCV group in Madison, WI are available from WCPCA. Selling them has been a traditional WCPCA fundraiser for many years. All proceeds will be used to fund humanitarian projects. The calendars have beautiful photos from Peace Corps host countries and are ideal gifts for your internationally minded family members and friends.
Individual calendars cost $12 each and shipping anywhere in the US costs $3. Use the PayPal form to order calendars that require shipping. You do not need a PayPal account to do this.
If you can pick up your calendars in Eugene, please email info@westcascadepca.org and write "Calendars" in the subject line. Someone will contact you. The price of five or more calendars purchased locally by a single buyer is $10 each.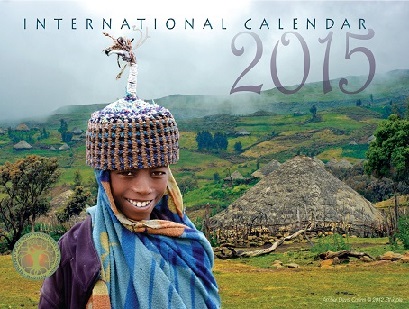 (Click on picture for larger image)
The new "Forever Peace Corps" tee shirts was designed by WCPCA member James Cloutier. They are spring blue, 100% cotton, with a 4-color design.
The front features the West Cascade dove and a quotation from President John Kennedy's inaugural address (1961), "My fellow citizens of the world, ask not what America will do for you but what together we can do for the freedom of man." The back shows a colorful graphic of JFK against the background of a world map, the Peace Corps name, and the following quotation (1963), "A man may die, nations may rise and fall, but an idea lives on."
The total profit from shirt sales will fund humanitarian projects. One shirt is $10 plus $3 for mailing. Anyone interested in a bulk purchase should send an email of inquiry regarding the price and shipping arrangements to info@westcascadepca.org and write "tee shirts" in the subject line.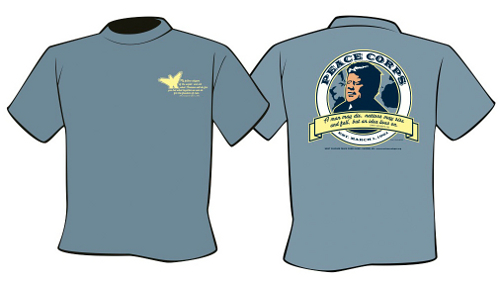 (Click on picture for larger image)