Sunset Bay 2012 Western Regional Campout
The camp is full and registration is closed.
The annual West Region Campout sponsored by the West Cascade PCA in August 2012 will be at Sunset Bay State Park on the Oregon South Coast. The Coos Bay contact is Sam Greer, sam2coast@live.com or cell phone (541-294-4143). The camp sites (12) will cost $20 per adult for the weekend of August 2, 2012, Thursday to August 5, Sunday; this includes one day's group reservation of the Gazebo Meeting Hall for Saturday's evening dinner. The cost for teens (13 to 19 years) will be $10 for the weekend; no charge for youth under 12. The camp is full, and registration is closed.
Our camp area will be neighboring tent sites in Loops B and C which permit 2 cars/8 people each. Sunset Bay Park is on Arago Cape Highway 12 miles south of Coos Bay/North Bend. Coos Bay is on Highway 101 via Eugene, Oregon off Interstate 5; take Hwy. 126 to Florence from Eugene, or Hwy. 38 to Reedsport via Drain exit off Interstate 5.
Sunset Bay
Coos Bay Bridge
Cape Lighthouse
(click for larger photos)
Description of camping area and amenities
12 tent sites with a picnic table and fire pit each; water nearby
5 sites are in the interior of 'C' Loop; 7 sites are on the outside of the Loop
3 sites (C5, C7, C9) have small (6' x6') tent pads
Gazebo meeting hall on Sat. Aug. 4; Regional Meeting and evening dinner
(Dinner cost is $5 each for non-campers; RSVP to Sam and pay at the door.)
Flush toilets and hot showers; firewood for sale at campground
Check in after 4 PM Thur. Aug. 2; checkout by 1 PM Sun. Aug. 5
Meeting Hall
Sunset Bay Map
Campsite
(click for larger photos)
Recreation (volleyball and horseshoe pits) and beach are within easy walking distance; we can swim, kayak, and raft/tube/toy float in the Bay. Surfing, fishing and beachcombing are available at Bastendorff Beach nearby. Sunset Bay Golf Course adjoins the Park.
The Junior Ranger program on resources and environment is available for 6 to 12 year old youth; the Park Interpretive Center is next to our Loop. Evening programs are open to all.
The Oregon Coast Trail can be hiked to Shore Acres botanical gardens, and to Simpson Reef and Cape Arago wildlife viewing areas. The Cape Arago Highway can also be cycled safely.
Web sites to visit are:
Groceries and supplies are available in Charleston – 3 miles from Park; also en route shopping can be done at the North Bend Safeway on Virginia Ave.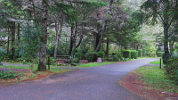 C Loop at Sunset Bay Campground
(click for larger photo)
What's Happenin' at the Sunset Bay Campout
Our very active weekend schedule is –
Thursday, August 2

4 PM Arrive and check in with Sam Greer for site location
Set up camps and get to know your neighbors
7 PM Low Tide in the Bay
8 PM Welcoming bonfire on the Bay under the Full Moon
10 PM Off to bedtime with the sounds of the surf

Friday, August 3

7 AM Awaken to the barks of seals and sea lions
Wade, hike, bike, sightsee, volleyball, crab, fish, golf
Visits to Charleston Harbor, Shore Acres Park, Cape Arago Park, Bastendorff Beach, Sunset Bay Golf Course
2:30 PM High Tide in the Bay
4 PM Wine tasting at Charleytown – Hosts Donna & John Kaiser
8 PM Campfire singing , drumming , 'bay'ing at the Moon, Low Tide

Saturday, August 4

AM More coastal and recreational activities including swimming, kiting, sand castle building, and surfing
12 Noon Regional meeting of group leaders at the Gazebo
3 PM West Cascadians begin dinner preparation
High Tide
5 PM Social Hour - BYOB and snacks at the Gazebo
6 PM Traditional/ethnic seafood dinner with Eugene hosts
Awards and recognition ceremony
8 PM Seaside sunset campfire and smores;
Low Tide at 9 PM

Sunday, August 5

9 AM Low Tide in the Bay
AM Take down, pack up and say your 'Alohas'
1 PM Checkout by this time, please. See you next summer!
Want to know more about the Western Regional RPCV campouts? Read more....