Coming Events
In this Issue
From The Board
From Members and the Wider World
Volunteer Opportities
ReConnections is the monthly newsletter of the West Cascade Peace Corps Association (WCPCA) and can be found online at www.westcascadepca.org on the "News" page. If you have a question about the WCPCA, would no longer like to receive the newsletter, or are interested in becoming more involved with the WCPCA, please contact info@westcascadepca.org.
Reconnections keeps the Lane County RPCV community apprised of WCPCA's coming events, ongoing activities, business affairs, and community activities judged to be of general interest to the local Peace Corps community.
Submissions to Reconnections are welcome and may be emailed to info@westcascadepca.org. The WCPCA board of directors reserves the right to select items for publication.
Editors: Deb Jones and Dorothy Soper
Newsletter Design: Felicia Kenney
West Cascade will host this year's Pacific Northwest regional meeting of RPCV groups from Seattle, Portland, Boise and Spokane. The meeting will be Saturday morning, April 12th, at the Hilyard Community Center, 2580 Hilyard Street, Eugene. Doors will open at 9:30 am and the meeting will start at 10. Eugene area RCPVs are encouraged to attend and help welcome our brethren from around the Northwest.
WCPCA Board members Howard Schuman and newcomer Bart Briefstein will facilitate a discussion about the challenges each group faces in attracting and maintaining active membership and in developing programs to meet membership needs. Each chapter will also have an opportunity to present briefly about its activities and accomplishments in the past year.
The group will have lunch together and, weather permitting, we'll show our out-of-town visitors the Saturday Market in downtown Eugene. Later, there will be a no-host dinner at the Maru Asian restaurant at 1769 Franklin Boulevard, across from the university.
To make reservations for lunch or dinner please send an email to info@westcascadepca.org and write "Reservations" in the subject line.
The host group for the regional meeting traditionally offers lodging to guests from out of town. We need lodging for one more person. If you can help please contact Julia Harvey directly or send an email to info@westcascadepca.org and write "Lodging" in the subject line.
Thanks in advance to our members for their support and participation.
Gary Cornelius, Board secretary, South Africa, 2012-2013
I am pleased to announce two new appointments to the board.  Bart Briefstein is our new treasurer.  He served in Venezuela from 1966-68 and recently moved to Eugene.  Denise Silfee is our newest board member at large.  She currently teaches at North Eugene High School and served in Thailand 2011-13.  We appreciate their willingness to volunteer for these positions.
Thanks,
Julia Harvey, Board president, Tonga, 1990-1993
The next WCPCA potluck will be held on Friday evening, April 4th, 6-9 pm, at the home of Juliet Bender and Charles Goldsmith. Laurette Garner, the UO Peace Corps Representative, will speak about her PC experiences in Madagascar (2004-2006) and about upcoming PC campus activities. Please bring a dish to share for an evening of friendship and fun.
Juliet and Charles' address is in the Membership Directory and will be included with the potluck listing on the calendar section of the website.
Juliet Bender, Program chair, Mexico, 2009-2012
Food for Lane County will present its annual fundraiser, Chefs' Night Out, on Tuesday evening, April 8th. A WCPCA team will enjoy the offerings of Chefs' Night Out and then stay on to join the clean up crew for this popular fundraiser which offers tastings from Lane County's highly vaunted restaurants, wineries, and brew pubs. The event will take place at the Hult Center in Eugene.
James Cloutier is organizing WCPCA's clean up team which will begin the evening at about 8:30 pm and conclude at 10:30 pm or so. To volunteer, please contact James directly or send an email to info@westcascadepca.org with Chefs' Night Out in the subject line.
WCPCA board
Once again the U of O Peace Corps recruiter's office and WCPCA will co-sponsor the NOM party to celebrate Lane County residents who are newly-nominated as Peace Corps trainees. We'll celebrate with a potluck on Friday, May 30th, 6:00-8:00 pm, at the Many Nations Longhouse on the U of O campus.
Please wear your country-of-service clothing and bring a potluck dish to share. It will be a fun-filled evening, which will include great food, a short program, and a warm send-off for the nominees.
The Many Nations Longhouse is located on the U of O campus, at the north end of Columbia Street, just off of E. 17th Avenue. The Longhouse is behind the School of Law (1515 Agate Street) and immediately south of the Museum of Natural and Cultural History (1680 E. 15th Avenue). There is limited parking available in front of the Longhouse. On street parking is available on Agate Street, in front of the Law School, or on E. 15th Avenue, as well as elsewhere nearby.
Juliet Bender, Program chair, Mexico, 2009-2012
Professor Marc Schlossberg of the U of O's Department of Planning, Public Policy, and Management is looking for two recently returned PCVs who worked in planning or with an environmental NGO to explain their service to one of his classes. He describes his plan to Laurette Garner, PC Representative at the U of O, below.
"I'm teaching an Introduction to City Planning class this Spring with about 130 undergraduates and I'd like to dedicate one day to Peace Corps opportunities and experiences.  My goal with the class is to have students see themselves as agents of change, and introducing Peace Corps could be very useful in their thinking about their future selves...The session would be on June 3rd and class is 10-11:20."
If you are interested please contact Laurette at pcorps@uoregon.edu.
On Monday, March 17th, the 2014 WCPCA Membership Directory was emailed to members of the organization. It lists most of our 130 members along with the years and dates of their Peace Corps service and their contact information. (A few members prefer not to be listed.) The final pages list members by their country of service and are a convenient reference for service information. The document is an excellent networking tool for the Lane County Peace Corps community.
The directory was emailed as a .pdf document in a separate mailing to members only. As long as you have the free Adobe software on your computer, you'll be able to download and open the document. If you haven't already, please do this and save the document for future reference. If you forgot to save it, let us know and we'll send you another copy.
There was a small emailing glitch at first and so about 40 people received an email with the cover letter but no document. The error was corrected within ten minutes and the document sent out. If you are a member, however, and didn't receive the directory, please let us know and we'll send you a copy.
If you receive the newsletter but didn't receive the directory, it's most likely because you haven't joined the organization. We encourage you to become a member so that in the future you'll be listed in the directory. Anyone who joins WCPCA in 2014 will receive a copy of the directory. We invite new members! You may join using the membership page of the website. The WCPCA membership list is not given or sold to outside parties.
If any members find an error in their entry in the directory, please let us know. We'll make the necessary corrections. Thanks for your help.
WCPCA board
The board extends its heartfelt thanks to Sherrill Kirchhoff for her generous donation to the principal of the Beryl Brinkman Memorial Fund at the Oregon Community Foundation in memory of her friend, the late Beryl Brinkman.
WCPCA has welcomed 15 new members in the last year and we've been fortunate that several have taken part in our activities. Two new members, Denise Silfee and Bart Briefstein, volunteered for board service and have just been appointed to the board. Most new members are listed in the 2014 Membership Directory. The May newsletter will include the names of all of the new members who give us permission to publish their names.
The board is looking for one or two WCPCA members to represent it at the Peace Corps Connect gathering in Nashville, June 19-20. Delegates may deduct travel expenses on their income tax returns for 2014. Details about the meeting are in an article below. You are also encouraged to visit the NPCA website for complete information.
At its February meeting the WCPCA board voted to contribute $635 to Classroom Curiosidades, a Peace Corps Partnership project in Mozambique. The grant completed the funding that the project required to build a classroom to house an after-school program and initiate its educational activities. The project is listed on the Project page of the website. Funds came from distributions of the Beryl Brinkman Memorial Fund.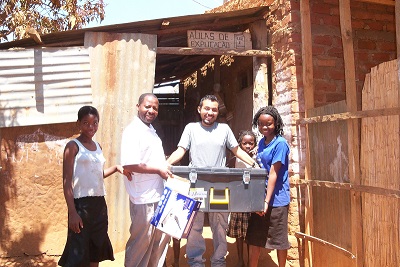 Victor Palma Campos, students, and a community member
The project is being organized by PCV Victor Palma Campos who is from Eugene and a recent graduate of Sheldon High School and the U of O.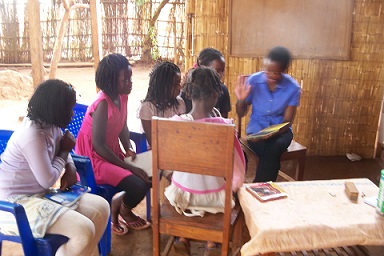 An after school class
A substantial amount of the labor required by the project was donated by members of Victor's community. Victor has expressed his appreciation and that of his community for the funding. We look forward to learning about the project directly from Victor when he returns to Eugene.
WCPCA board
From time to time articles describing how Peace Corps service shaped the education or careers of WCPCA members are included in the newsletter. Read below about the science teaching career of WCPCA president, Julia Harvey.
In the March 13th issue of the Eugene Weekly Julia was featured in an article describing her background as a PCV high school science teacher in Tonga (1990-1993) and her current work at South Eugene High School where she teaches biology and environmental science. After completing her Peace Corps service, Julia entered a Peace Corps fellowship program at Wichita State University where she earned a master's in education. To read the complete article click here.
In a recent conversation Julia emphasized that her Peace Corps experience as a science educator was a pivotal moment in her life.  "My service shaped my career as a science educator.  I recently reconnected with some of my first students who are now in their 40s.  One is now also a science educator (in Switzerland).  This is what he wrote 'I know a good teacher when I see one and I saw one when I was in form 6 at Vava'u High School in Tonga about twenty years ago; she was my Biology teacher from America and now I am a Biology teacher as well. Thanks for the inspiration Julia.'"

We also thank you, Julia, for sharing the inspiration with us.

Dorothy Soper
Newsletter co-editor
Ghana, 1963-1965




To: RPCVs

The National Peace Corps Association has partnered with researchers at Baylor College of Medicine to study an important question: Can a common anti-malaria medication reduce the risk of developing breast cancer in the future?

Female RPCVs who served between 1961 and 1990 represent an ideal group of people in whom to study this possible link, because about half of RPCVs took anti-malaria medication as part of their service and about half of them did not. Additionally, over 20 years has passed since their service and related anti-malaria medication use, so we can look at health over a long period of time.

Preliminary studies suggest that people who took a commonly used medication in the past to prevent or cure malaria may be at lower risk of developing some diseases today, such as cancer or heart disease. Baylor College of Medicine is developing studies to examine this link, beginning with a survey of RPCVs.

This online and telephone survey will measure the association between the anti-malarial drug, chloroquine, and diseases, such as breast cancer. In addition to anti-malaria medication use, there are questions in the survey about lifestyle risk factors for diseases and your medical history.

RPCVs are a perfect population in whom to study this possible link, because about half of RPCVs took chloroquine as part of their service, and about half of them did not. We need BOTH people who took chloroquine and people who did not take chloroquine to participate in the survey. We also need help reaching as many RPCVs as possible. For that reason, at the end of the survey we will ask you to please forward the survey to other RPCVs.

Today's survey is for women only, BUT we believe that chloroquine is also active against other cancers that affect men and women. Join our mailing list to be informed of future studies that will be open to men and women.

Thank you for your service.

Clifford C. Dacso, MD, MPH
Departments of Molecular and Cellular Biology and Medicine
Baylor College of Medicine
Email: corpschronicles@bcm.edu
Telephone Number (832) 776-8089

I encourage women in the Lane County Peace Corps community who served in the Peace Corps between 1961 and 1990 to volunteer to take the survey which has been distributed only recently. I've taken it and will be happy to talk about it to interested parties and forward a copy of the survey to you as described in the introductory letter. Researchers conducting the survey are seeking 18,000 respondents. We can help and we may all benefit from learning the outcomes.
The study is organized by Baylor College of Medicine. You may read more about it at the program's website.
Note that the study is using a social networks-based methodology to recruit participants. Thus the study is not open to general enrollment. You must be referred by other study members to participate.
For more information you're welcome to email me directly or send an email to info@westcascadepca.org and write "Survey" in the subject line. Your email will be forwarded to me. I'm looking forward to hearing from many of you.
Dorothy Soper, Ghana, 1963-1965
The National Peace Corps Association encourages its members to come to the third annual Peace Corps Connect gathering, June 19-21, 2014, to be held this year in Music City. The gathering is cosponsored by NPCA and the Tennessee Returned Peace Corps Volunteers. Below are a few details about the site and highlights of the program. For more details and registration forms, visit the NPCA website.
The WCPCA board is looking for one or two WCPCA members to represent the board at the Peace Corps Connect gathering in Nashville. The primary obligation would be to attend the Group Leaders' Forum on Friday. Delegates may deduct travel expenses on their income tax returns for 2014.
Dates and venues:

Friday June 20, 2014: Vanderbilt University 2201 West End Avenue Nashville, TN 37235
Saturday June 21, 2014: Country Music Hall of Fame 22 Fifth Avenue South Nashville, TN 37203

Friday, June 20, 2014

Friday will focus on small group sessions. A sampling of the Friday events are the Group Leaders Forum, Graduate Research Conference, Politics and the Peace Corps, Women in the Peace Corps, Peace Corps Prep, Board Emeritus, Advocacy, Storytelling as well as technology tutorials and space to meet up with member groups, old friends or NPCA staff and Board.
Saturday, June 21, 2014

Saturday will be an exciting program with TEDx-style talks from community members, award presentations, guest speakers, videos and entertainment. This program will take place in the brand new theater at the historic Country Music Hall of Fame in downtown Nashville. We will also be offering an opportunity for members of the community to nominate speakers for the TEDx-style talks.
Saturday evening will also feature the "Annual TNRPCV Shindig". This event showcases live music from several bands and benefits international grassroots projects being conducted by Tennessee Peace Corps Volunteers. This event is being hosted by the Tennessee Returned Peace Corps Volunteers.