On November 11, a lucky group of nine West Cascade RPCVs gathered at the home of Joyce Leader to enjoy the culinary skills of Jeem Peterson, (Philippines, 1982-1985; Solomon Islands, (1995-1997) . Jeem instructed the group on how to put together a five course Thai dinner including lemon grass soup, pad Thai, and mangoes with sticky rice. Jeem had one participant cook along-side him for each dish, and then the group had a taste comparison for the two versions of each course.
You'll see Jeem at work and his happy students in the photos below. Participants said the evening was a kind of Asian-style preparation for Thanksgiving, given the variety and amount of delights to be consumed. All agreed that another class must be held. In fact, the class was oversubscribed and Jeem has offered to host another session most likely in February.
How about another RPCV offering a class teaching a different cuisine? If you are interested please email me.
Howard Schuman
(Thailand, 1968-70; Malaysia training staff, 1973)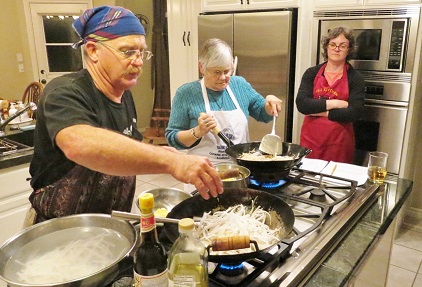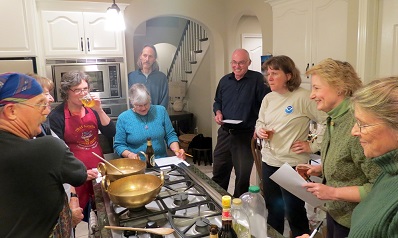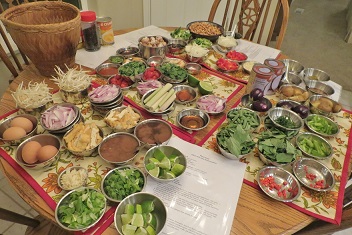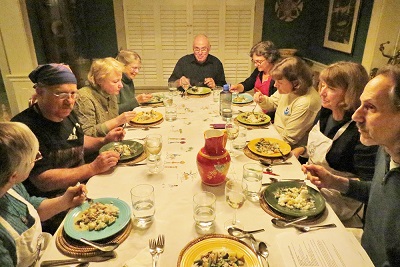 To raise funds for humanitarian projects, WCPCA is selling international calendars produced by the Madison, WI returned volunteers' group, and its own "JFK" tee shits designed by WCPCA member, James Cloutier. These are holiday gifts with a message that will be welcomed by your family and friends.
Both items will be available at the December potluck or you may contact us at the "info" email address to buy them directly in Eugene. They are also available online through the website where you'll find photos of them.
Note for those interested in calendars: the board ordered 100 calendars this year and only 22 are left at the time of this writing. Reserve your calendar now to pick up at the potluck!
The calendars sell individually for $12; five or more may be purchased together for $10 each. Tee shirts cost $20 each.
Read later in the newsletter about a project in Kenya, organized by an Oregon PCV, that the board recently funded. Your support makes such donations possible!
WCPCA board
Please join us in the new year to read and discuss books by RPCV authors.  We meet the first Monday every other month.   Monday, January 6 , 2014 will be our next meeting; the book is The Farm on the River of Emeralds by Moritz Thomsen.  
We will meet at Patty Mac Afee's place from 7-9pm, please  bring a small snack to share.  Patty's address is in the WCPCA Membership Directory.
Patty MacAfee
(Cameroon, 1989-1991)
Opening topics for the discussion group's December meeting will be:
Were you and fellow Peace Corps Volunteers able to observe American holidays while living abroad?   If so, do you have stories to share?  Are there holidays and holiday traditions from your host country that you now observe with family and friends in Eugene?  If so, please share.
Jack Meacham
(Turkey, 1967-1969)
Spring 2014 regional meeting of northwest RPCV organizations in Eugene:
Responsibility to organize the annual meeting of representatives of the five northwest RPCV organizations (Portland, Seattle, Spokane, Boise, and Eugene) rotates on a five year cycle. WCPCA will host the meeting this spring on a Saturday afternoon in April. The specific date hasn't been set.
The board will soon appoint a committee to plan the meeting and is looking for WCPCA members who would like to help with this activity. WCPCA members are invited to attend the meeting. Traditionally members of the host organization offer lodging to those attending from out of town who may number 8-10.
WCPCA will set the agenda for the meeting. The board will identify topics of widespread mutual interest for discussion. If you have suggestions for a topic, please let a board member know.
If you are willing to help plan and organize the meeting or offer lodging, please send an email to the "info" address and write "regional meeting" in the subject line. Let the board know how you would like to help.
This is a good time for WCPCA members to get acquainted with the other northwest RPCV organizations through their websites. You'll find the relevant links on the Links page of the WCPCA website.

2014 WCPCA membership directory:
The annual WCPCA membership directory lists the names, Peace Corps service and contact information, and brief bios for WCPCA members. The directory is issued in the early part of the calendar year as a .pdf file that is distributed by email to members only.
If you're thinking of joining WCPCA or if you haven't yet renewed for 2014, please take that step before the end of the year so that you'll be included in the 2014 directory. The directory is a convenient reference for WCPCA activities and an excellent networking tool for the Lane County Peace Corps community.
To renew, join, or update your contact information or bio, go to the membership page of the website and fill out the membership/update form. Follow directions there to submit the form and any dues payment that may be required.