Upcoming Events
November 3: WCPCA Discussion Group from 6:30 - 8:00 PM at the New Day Bakery (449 Blair)
November 7: WCPCA November Board Meeting from 7:00 - 9:00 PM at the home of Dorothy Soper
November 17: WCPCA Discussion Group from 6:30 - 8:00 PM at the New Day Bakery (449 Blair)
December 4: WCPCA December Potluck from 6:00 - 8:00 PM at the home of Dale Morse, 31160 Foxridge Lane, Eugene
December 5: WCPCA December Board Meeting from 7:00 - 9:00 PM at the home of Dorothy Soper
In This Issue
From The Board
From Members and the Wider World
ReConnections is the monthly newsletter of the West Cascade Peace Corps Association (WCPCA) and can be found online at http://www.westcascadepca.org/ under the "News" heading. If you have a question about the WCPCA, would no longer like to receive the newsletter or are interested in becoming more involved with the WCPCA, please contact info@westcascadepca.org.
Contributions to ReConnections are always welcome, although the editor and the WCPCA board reserve the right to choose what will and will not be published. Generally, if it relates to the Peace Corps or to the WCPCA's goals (see the bylaws and constitution for more information), we would be happy to publish it. Please send contributions to newsletter@westcascadepca.org.
Editor: Felicia Kenney
Assistant Editor: Keith Beyer
In the summer of 1973, I boarded a flight out of Washington, D.C., bound for New York City. A plane change and hours later, in the darkness of night, I stepped off a Boeing 727 into the suffocating heat and overpowering smells of Dakar, Senegal.
Nothing in a college degree quite prepared me for this. My first step through the forward cabin door as a starry-eyed Peace Corps volunteer in Africa was an awkward stride in an unfamiliar world. At 22, I had stepped across a chasm of place and time beyond my imagination.
The Peace Corps 50th celebrations in Washington DC sponsored by the National Peace Corps Association, September 22-25, 2011, as remembered by WCPCA members
Introduction:
These four days featured a whirlwind of events, large and small, that attracted about 5,000 RPCVs to Washington DC. The anniversary of note was the 50th of Congress's passing on September 22, 1961 bills to create the Peace Corps and appropriate $40 million for its first year of operation. Over these four days the NPCA sponsored several events that drew crowds. The RPCV-Washington DC group organized an extraordinary ceremony for the last day in Arlington Cemetery to honor Peace Corps volunteers who died during their service and to commemorate the Peace Corps' fifty year history. The ceremony concluded with a "Walk of Flags" in which 139 flags of the Peace Corps host countries past and present were carried from Arlington Cemetery across the Potomac River to the Lincoln Memorial, each surrounded by a coterie of RPCVs who had served in the relevant country. No one was counting but a consensus is that about 3,000 took part that day.
From Thursday, September 22nd, when 500 RPCVs took part in Advocacy Day, lobbying senators and congressmen on behalf of the Peace Corps, through Sunday, September 25th, with the Walk of the Flags there were approximately 200 events, a true whirlwind. The most numerous and heartwarming were surely the reunions of individual Peace Corps groups. Ethnic restaurants throughout DC were booked for these reunions and many also took place in private homes. Several ambassadors of Peace Corps host countries were generous in opening their homes and embassies to greet RPCVs who had served in their countries. This touch was made especially poignant at the Arlington ceremony by the presence of several ambassadors of Peace Corps host countries and in the talk given by Vice President Joseph N. Boakai of Liberia who had had Peace Corps teachers when he was a high school student in Liberia.
At least a dozen RPCVs who are WCPCA members and/or resident in the Eugene area took part in these events. James Cloutier shared his impressions with you in the October newsletter and several others will share their experiences and photos with you in the following accounts. I hope that you'll enjoy the whirlwind, not worrying too much about the time and place of events. It was a busy time!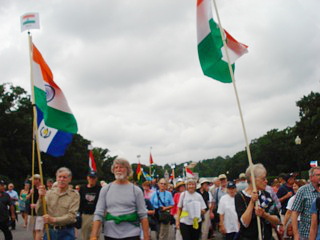 Parade of thousands of volunteers. Thanks to the Jeffcotts for the photo.
More visuals are available in three You Tube videos, each showing one of the big events.
Washington Nationals' honoring the Peace Corps at the Friday night game on September 23rd: video
Big Gala banquet sponsored by NPCA on Saturday night, September 24: video
Walk of the Flags, Sunday, September 25th: video
If you want more facts, figures, and photos visit these two websites:
Joe Hindman
Guatemala, 1969-72 (PCV)
Joe also served as Peace Corps staff:
Mali, 1972-74
Central African Republic, 1979-82
Mauritania, 1982-84
Chad, 1990-1993
Panama, 1993-95
Given all the appealing events in Washington related to PC's 50th anniversary, I had a difficult time choosing which ones to attend. In fact I "double booked" events on Friday evening; buying a ticket to the Nationals baseball game (where PC was honored) but instead attended a reception for former PC Staff at the beautiful National Building Museum; an event which I consider the high point of my visit to Washington. It was there that I saw/talked to at least 50 former colleagues that I had known over the past 40 years. My country director (when I was a volunteer) in Guatemala was there, as were many of my former volunteers from my days on PC staff. I especially appreciated talking with three other former country directors in Chad. Together, the four of us were witness to nearly half of PC's history in Chad!
I also attended a reception at the Panamanian embassy, honoring PCV's service to Panama. There, I saw two of my former volunteers, and many former Panama volunteers from the 60s. I, along with three other former PC Panama country directors, were officially recognized by the Panamanian acting ambassador in his proclamation.. After the Panama embassy event, as I was entering the Woodley Park-Zoo metro station, I saw a PC friend from Eugene, Dorothy Soper!
As my three year term as the Western Representative on the NPCA board was ending at this time, I attended my last Board meeting on Saturday morning. I had hoped to attend (and had tickets to) the symposium on the future of Peace Corps (Saturday afternoon), but found that I couldn't logistically do that and also prepare (ie; shower, shave, change clothes, etc) for the PC Gala later that evening. I was staying with friends in Oakton, VA, which was over an hour away (with good metro connections) from downtown Washington, so I sacrificed the symposium in order to be 'fresh' for the Gala.
The Peace Corps Gala took place from 7:00 to 10:00 Saturday night at the Ronald Reagan Building near Pennsylvania Avenue. It was well attended (over 800 people) and Chris Matthews served as the Master of Ceremonies. There were several awards presented, and a folksinger named Crystal Bowersox provided the live entertainment. Here's a clip that shows a little of the atmosphere (disregard the loving couple who took the video). The only disappointment for the Gala was that it was so well attended that it was difficult to mingle or search for friends. However I did manage to find David and Courtney Arnold (formerly West Cascade members) and Pat Wand (a current member!).
I thoroughly enjoyed the four days of events commemorating PC's 50th anniversary and look forward to the 100th birthday bash!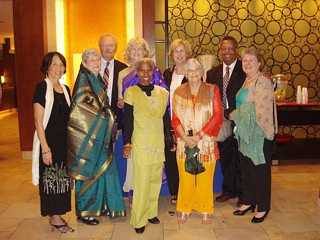 Diane is in the front row, second from the right, with members of her Peace Corps group.
My husband George and I had been planning on attending the anniversary celebration for over 10 months--we were ready for fun in DC! We'd been in different groups in India 44+ years ago. Five days before departure he was told not to fly due to an infection in his leg. I debated whether to go alone, or stay home too. Knowing a lot of my India group from the late sixties would be in DC at the same hotel made my decision easy--I had to go!
I stayed 6 nights; 17 of my group attended; we ate at an Indian restaurant; went to a reception/dinner at the India Embassy; toured DC; went to the friends of India picnic; went to a party at a fellow volunteer's house in Virginia; toured DC at night; attended the ceremony in Arlington Cemetery; marched in the parade with thousands of volunteers, visited the Peace Corps and NPCA headquarters; Smithsonians, etc. I even learned how to use the subways and cured my fear of escalators. (There were too many to be afraid it'd suck up my feet every time I stepped on).
The highlight for me was seeing my house mate again--we'd had no contact since 1969. After all these years I wasn't sure she'd want to talk to me! When she said I ought to come to Mississippi sometime, a great burden was lifted off my shoulders! Knowing we had both survived two of the most interesting and difficult years of our lives together in India and could finally talk about it was wonderful.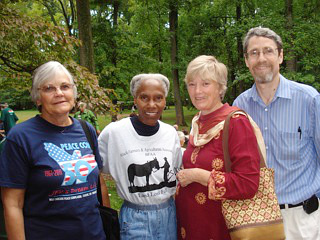 L to R, Diane Jeffcott, site mate: Susie Spence, Lynne Graham, Bill Whitsell
Three hundred former Peace Corps volunteers in Turkey made it to the 50th Peace Corps birthday party in Washington, D.C. in September. A few blank moments were spent initially at the event registration as people who hadn't seen each other in 40 years searched for recognition, then found it. "Oh, I know you" was heard more than once. After the Friday evening reception at the Turkish Embassy, individual Turkey groups got down to serious partying at locations around the city. The easy banter, laughter and unpretentious sharing of experiences were the same as they were decades ago in Turkey. By Saturday, the Turkey volunteers willingly wore the loud, commemorative t-shirts in public and remembered the words to the Turkish national anthem in time to sing them at the Saturday Plenary Session. An evening of sharing stories over excellent Turkish food was followed on Sunday by participation in the parade of Peace Corps country flags from Arlington Cemetery to the Lincoln Memorial. After multiple good-bye hugs to the same people, everyone returned to their regular lives with smiles on their faces. In the end, former Turkey volunteers at the celebration hope they made a positive, lasting connection with Turkey during their time in country. They know they made a lasting connection with each other.
Pat Wand
Colombia, 1963-66
Eastern Caribbean, 1969
"Conversations: The Future of Peace Corps" was the featured 50th anniversary event for Saturday afternoon, September 24, 2011. With rumors flying about available seating, getting through the long line outside the National Theater to attend "Conversations" seemed like quite a feat. But once inside, everyone found a seat.
The big draw to "Conversations" was its master of ceremonies, Bill Moyers. Known to everyone for his candid and thoughtful commentary as a journalist and known to RPCVs as a member of Peace Corps' founding team, Moyers did not disappoint us.
He was there to moderate a panel of global leaders who, over the years, have frequently and publicly acknowledged their personal indebtedness to Peace Corps Volunteers for their own education and careers. Alejandro Toledo, President of his native Peru for 5 years; Ashraf Ghani, , a UN adviser and former Finance Minister in Afghanistan; Atiku Abubakar, former Vice President of Nigeria, were panelists with Moyers posing the questions and setting the tone.
The lead-off was a rouser. It went roughly like this:
Moyers: President Toledo, has the Peace Corps shaped your life?
Toledo: (pause) Is the Pope Catholic?
Moyers: We're no longer sure.
Toledo went on to tell his story about how Peace Corps Volunteers found him in a Peruvian shanty town, looking for a way to go to school. They took him into their house; fed, clothed and supported him through high school. PCVs helped him get to the University of San Francisco where he earned the bachelors degree and later went on to earn a doctorate at Stanford University.
Toledo told us, "The second thing I did when I became President of Peru was pick up the phone and call the President of the U.S. asking for Peace Corps to return to Peru." (Peace Corps left Peru in 1982.)
Ashraf Ghani said he learned English from PCVs, who taught him between 1963 and 1966. At the time, Peace Corps was a strong contrast in Afghanistan to the image of the U.S. in Viet Nam. PCVs express the American spirit in action, they "made things happen." For volunteers "to delay graduate school and getting jobs, and to live in difficult circumstances is an act of greatness," he said.
Atiku Abubakar had PCVs as teachers in Yola, Nigeria. His appearance was by video conference and, because he was linked in for only 30 minutes, he missed the personal tone of the conversation that had been set by Moyers and the previous speakers. Nonetheless he got several messages across; including "The Peace Corps is committed to avoiding a clash of cultures and that is what the world needs. There should be no fortress for Islam, no fortress for Buddhism; we need people to connect, to live and work in a network."
Others picked up on the "network" topic, turned it into "social network" and discussed it in the context of the value of Peace Corps and its approach.
Moyers touched on the U.S. domestic situation with the observation that various forces are at work now that are "trying to de-construct the U.S. social contract, so delicately won over 200 years." He commented: "We are a troubled society." He referred to a recent conversation among American historians who observed that the current fractious times of uncompromising partisanship are similar in intensity to the period prior to the U.S. Civil War.
Overall the speakers reminded us how Peace Corps service makes a difference in host countries, often without the volunteers themselves knowing it. Moyers was his shining self and left us all thinking differently about one thing or another.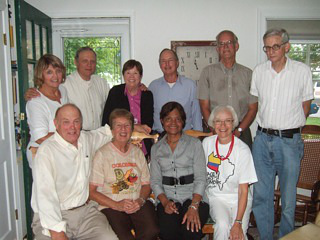 Pat treated her PC group to brunch in her home. She's in the front row on the right.
On Friday, 23 September, I hosted a mini reunion brunch for my training group, Colombia 8. We trained in summer 1963 at the University of New Mexico and surrounding area. There were ten of us who gathered for this reunion, out of 64 who went into Colombia after training. We're hoping to have another reunion in 2013, the actual 50th anniversary of our training.
My Peace Corps group gathered for the first time in a long time during the DC celebrations. Twenty-five of the fifty of us were there along with spouses and friends. We met in a crowded, noisy, and lively Ghanaian cafe and ate great Ghanaian food prepared by Ghanaians. It seemed like being in Accra once again only there weren't any jeeps parked outside. The very existence of such a restaurant in the US is a sign of the change in the world since 1961 and may be due in part to the Peace Corps' work.
We saw each other in smaller groups at other times during these days. We spent much time trying to reconstruct some of our activities in Ghana. Putting all of our memories together was a real village effort but in the end I think that we have a pretty good idea of what we did at least for most of the time. I feel so fulfilled to know these people. Many of us who haven't seen each other for a long time will stay in touch and maybe organize some mini-reunions.
The big picture was also good. One of my best experiences was taking part in NPCA's Advocacy Day on Thursday, September 22nd. About 500 of us volunteered to call upon our senators and representatives to lobby on behalf of the Peace Corps. NPCA staff trained us the night before and gave us talking points about impending PC legislation. They also organized us into state delegations and gave us appointment times with congressional staff members.
On Thursday morning we met at a church near the Capital Building and then walked to the building en masse. An impressive sight! The Oregon delegation numbered about 15. We were surprised and honored when both Senator Wyden and Senator Merkley joined our meetings with their staffs. The same was true for a smaller number of us when we gathered in the office of Representative Peter DeFazio. All three are strong supporters of the Peace Corps. We are fortunate to have these representatives in DC.
Our visit with Senator Merkley was of special interest to me. When he joined us we introduced ourselves indicating where we were from in Oregon and where we had served in the Peace Corps. When I said that I had served in Ghana, he responded immediately by telling us about the summer that he had spent in Ghana at the age of 17 helping organize a Boy Scout troop. He had a great time and even remembered three sentences of Twi, the language of his town, which he repeated for me. I was impressed. What evidence of the powerful influence of international travel!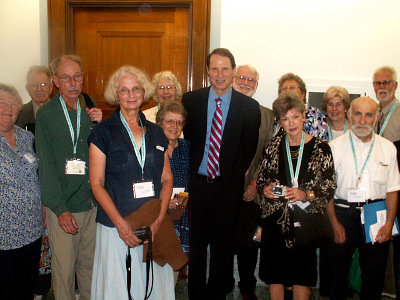 Advocacy Day when the Oregon delegation talked to the senators and representatives. This is a photo of the delegation with Senator Wyden. Eugene resident Tim Rake and Dorothy are in the back row on the right hand side.
My reunion adventure started a few days early with my departure by Amtrak from Eugene on Sept. 19; it was 4 days going via Seattle and Chicago with many delays for replacement engines and crews. In Washington DC, over 250 Ethiopia/Eritrea RPCVs took over the Crystal City Marriott for the Sept. 22-25 weekend. We had presentations, panels and updates – with a direct phone call from Ethiopia's current Peace Corps Country Director – including RPCV programs there in education and health supported by efforts like a Silent Auction at the hotel.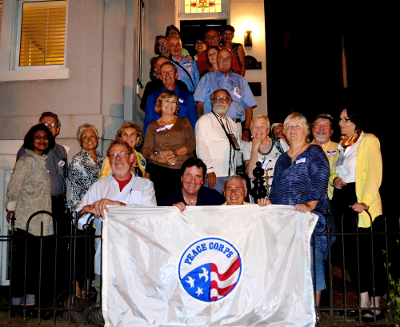 Two dozen Salt Lake City trainees from 1966 had a traditional Ethiopian dinner with Rep. John Garamendi and wife Patti on our first night in town. A dinner/reception hosted by the Ethiopian Embassy the next night was attended by over 300 former Volunteers. The highlights of the evening were a traditional coffee ceremony, and a musical performance by an RPCV, Charley Sutton, who I trained and served with.
The Arlington ceremony and Flag Walk on the final day involved 5000 RPCVs from the 139 countries where we had served. It was a time to chat with those from our second homelands that we hadn't seen earlier. My post parade lunch was with friends from Boise and Portland we are also regulars at the West Region annual campout.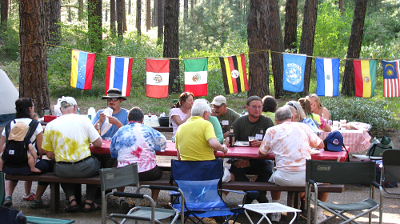 During my five hour layover at Chicago Union Station on Sept. 27, I had another traditional meal with a former co-teacher and his son. Abeje Demilew was the Amharic instructor at the Technical School in Addis Ababa where I taught English and Mechanical Drawing. After arriving in Eugene on Sept. 29, I drove home to Coos Bay with the leftovers of injera and wat given to me by my Chicago friends. We Ethiopia VII RPCVs are just five years away from our 50th Anniversary of our arrival in country, and we hope to spend some time together again "back home".
Additional Photos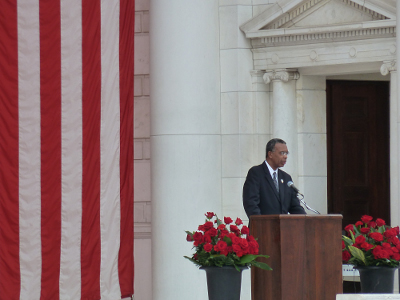 PC director Aaron S. Williams talking to assembled RPCV's at Arlington Cemetery prior to our flag walk across the bridge. Photo by James Cloutier. Click to enlarge.
---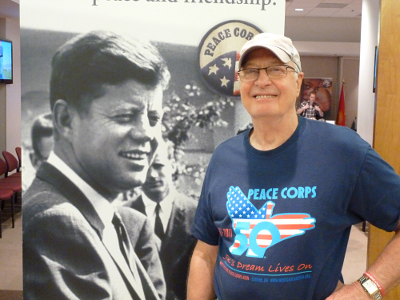 James Cloutier standing next to a JFK poster at the Peace Corps headquarters
---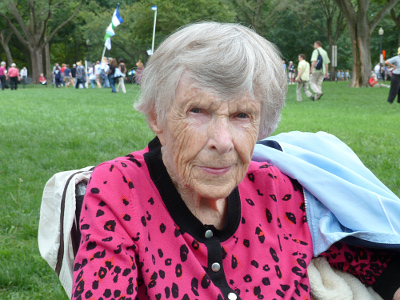 Van Schuler, the oldest living RPCV at 105 years old. This was taken at the conclusion of the march adjacent to the Lincoln Memorial. She was an India volunteer sometime in the 70's. Photo by James Cloutier.
---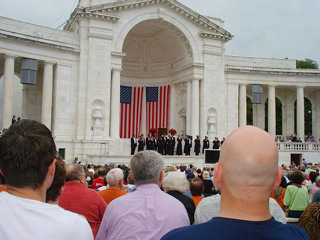 Arlington Cemetery. Photo by Diane Jeffcott.
If you were in DC for the 50th and would be willing to share your experience, please write up an article and send it to newsletter@westcascadepca.org.
---
Early Tuesday evening, the House of Representatives gave final passage to the Kate Puzey Peace Corps Volunteer Protection Act of 2011.
The House approved a version of the bill - Senate Bill 1280 - that had been unanimously approved last month in the U.S. Senate.
Congratulations to all advocates who made their voice heard in passing this legislation. Congratulations to the leadership of the Congress and the Peace Corps, who worked through various versions of the legislation to build the momentum to passage. Finally and especially, congratulations to the members of the groups First Response Action and Kate's Voice, for their steadfast and passionate work which led to the passage of this landmark legislation.
Be sure to contact your lawmakers to thank them for passing this legislation.
Note: Senators Wyden and Merkley and Peter DeFazio were cosponsors of this legislation.
So what was it like? In the human-sized parcel of 50 years of Peace Corps service, it was hope and making history, and it was, sometimes at least, an exercise in futility. These volunteers set out to change the world and, more often than not, found themselves transformed: learning so much more than they could ever teach, receiving so much more than they could possibly give—which is not to diminish the teaching, the giving.
Dear Fellow RPCVs,
Happy 50th Anniversary of the Peace Corps!
I'd like to share with you some opportunities for American high school students to participate in language and culture-focused exchange programs overseas. I work in the Youth Programs Division at the U.S. Department of State and we are now recruiting applicants for our 2012-13 programs. The specific programs are detailed below, and as you can see they include many Peace Corps countries and languages.
I am requesting your help in spreading the word through your networks about these opportunities. Please note that these are all full scholarships – rather rare in this day and age – and we're hoping to attract a diverse group of applicants from across the U.S. Deadlines vary, but the first one for the NSLI-Y program is only a few weeks away.If you have any questions, please let me know.
Thank you in advance for sharing this informationwith your RPCV group and your community!
Warm regards,
Carol
(RPCV/Philippines, 1980-83)
Carol A. Radomski, PhD
Program Officer
National Security Language Initiative for Youth (NSLI-Y)
Youth Programs Division
U.S. Department of State
Telephone: 202-632-9354
Email: RadomskiCA@State.Gov
Youth Exchange Scholarships for U.S. High School Students
Four U.S. Department of State programs offer scholarships for U.S. high school students to study abroad:
Below are links to recent testimony by RPCVs about the Peace Corps in the U.S. Senate on October 6, 2011, and the U.S. House on October 4, 2011 that may be of interest to you.
The first link is to the U. S. Senate Committee on Foreign Relations, Subcommittee on Western Hemisphere, Peace Corps, and Global Narcotics Affairs hearings titled "Peace Corps, the Next 50 Years". There are further links to the testimony given in panels by the following Returned Peace Corps Volunteers: former Senators Christopher Dodd and Harris Wofford; Director of the Peace Corps, Aaron Williams; President of the National Peace Corps Association, Kevin Quigley; Peace Corps Inspector General, Kathy Butler; and, Training and Outreach Director of the D. C. Coalition Against Domestic Violence, Liz Odongo.
Link (then see October 6)
The second link is to testimony on October 4, 2011 by Chuck Ludlum, PCV, Nepal and Senegal, to the U.S. House Committee on Natural Resources. His testimony is in opposition to legislation that would authorize a Peace Corps Monument on the National Mall. He cited eight compelling reasons against such a monument, one of which is number 7: "A Self-congratulatory Monument: An Embarrassment".
Submitted by Miriam AikenOctober 28, 2011
On Wednesday, November 9 at 11:00 a.m., Oregonians will hear on their radios and see on their televisions a test of the emergency alert system (EAS). The test will last approximately three (3) minutes. Normal programming will return following the test. This is a nationwide test organized by the FCC and the Federal Emergency Management Agency (FEMA).
This test will be different than those we have had in the past. The November 9 test will utilize a "live" national alert code, i.e., a coded message that will present itself as an actual emergency announcement, not a test. This is necessary in order to allow FCC and FEMA to test the actual working order reliability of legacy EAS equipment and the state of readiness of EAS operators and participants. Television stations are being encouraged to run a scroll at the bottom of the screen throughout the test stating that it is just a test.
Oregon Office of Emergency Management (OEM), FEMA, Broadcasters, NOAA and many other agencies are diligently trying to get the word to people that this is, in fact, a test. Often, citizens who are unsure of whether the alert is real or a test, place calls to 911 which tie up the phone lines for legitimate emergencies.
If anyone has questions about the test, please do NOT call 911. Please tell your neighbors and friends about this test so that Oregonians will be the most informed of all the states and will not be caught off guard by this unusual test of the EAS equipment.
More information can be found at www.fema.gov/emergency/ipaws/eas_info.shtm.
By Patence Winningham on behalf of Eugene/Springfield Area CERT.
After Returned Peace Corps Volunteer Thomas Camero (Honduras 78-80, Response 2000) pedaled thousands of miles from his home in Hood, Oregon to Washington, D.C. to join the Peace Corps 50th anniversary celebration, his friends decided they wanted to greet him in style. In enthusiastic and entrepreneurial Peace Corps fashion, what started as a simple swing by the NPCA office for a few photos, and then on to a hotel bar, began to mushroom. Could Thomas end the journey at Peace Corps headquarters? Could he, and accompanying riders, be greeted by the Director? Should someone from the Honduras Embassy be contacted for the photo op?
December potluck date changed! Relief for football fans!!
Our December potluck has moved to a new date, Sunday, December 4th. It will be from 6-8 pm at the home of Dale Morse and Leslie Mittelberg, 31160 Foxridge Lane, Eugene.
The Pac-12 championship game will be played on Friday, December 2nd, and there's a just chance that it will be at Autzen Stadium with the Ducks' playing. If that's the case, some of us might even see it in person and lots of us will watch it on TV. Lots of us will probably be watching the game on TV even if the Ducks don't play. You can do that now without feeling guilty about missing the potluck!! This potluck will be a little different than previous potlucks, too!
Our December 4 potluck will provide an opportunity for members to get to know each other by learning about each other's Peace Corps service. Maggie Keenan will reserve speaking slots, of approximately three minutes each plus time for a few questions. Interested members should send one digital photo that represents a significant memory from their Peace Corps days to maggie@pacinfo.com. Make sure you hear back from her, to ensure that she has received the photo. On December 4th, Maggie will have the photos queued up in alphabetical order, by last name. Be prepared to spend about three minutes telling us about your photo and a memory that sticks with you from your Peace Corps days.
Before the photo extravaganza, Jim Beyer, as the nominating committee, will present a slate of members who are candidates for the 2012 board, and we hold an election.
Many thanks go to Leslie and Dale for being flexible because this change pays homage to the football season and the great U of O Ducks. Directions are available on the website.
A WCPCA volunteer crew of nine worked on clean up duty at the Empty Bowls fundraiser sponsored by Food for Lane County on October 1st. They were treated to dinner first and then spent 2-3 hours putting away furniture and taking care of other clean up tasks. Working at this fundraiser has been a West Cascade volunteer activity for several years. WCPCA received an enthusiastic letter of thanks for the help. You'll see the letter below.
To WCPCA:
The Saturday night crew was amazing! They all worked so hard and made a huge impact on the process of restoring the warehouse for operation. Our Sunday crew was able to be finished by 1:30 – a new record! The following folks came to help – if I have misread any names I know you will know who I mean! Special thanks to James Cloutier for actually pulling the troops together.
James Cloutier
John Hofer
Bob Watada
Rosa Sakanishi
Kirk Kneeland
Linda Ague
Martha Evans
Dave McJunkin
Michael Moosier
Sheyla Norte
Volunteer Coordinator
FOOD for Lane County
770 Bailey Hill Rd.
Eugene, OR 97402
541-343-2822
...because no one should be hungry...
In August WCPCA granted $500 to SOLA, School of Leadership, Afghanistan, in memory of WCPCA member, Artis Spriggs, who died a year ago. Below you'll see the thank you letter from the organization and also notice of the 2011 Starfish Award made to SOLA by Friends of Afghanistan, an organization of RPCVs from Afghanistan.
WCPCA raises funds each year to award grants to humanitarian projects by selling the beautiful international calendars produced by the RPCV group of Madison, WI. This is the 25th year that the Madison group has published the calendars and they are better than ever with photos from thirteen past and present Peace Corps host countries.
Please celebrate this anniversary and help support the WCPCA grant program by purchasing one or more calendars. They make excellent gifts in part because dozens of international holidays are entered on the days of their celebration. No more comprehensive list exists. You'll find photos of the calendars on the WCPCA website.
WCPCA charges $12 for individual calendars and only $10 per calendar for purchases of five or more. Please add the calendars to your holiday gift giving list. You may purchase a calendar at the December 2nd potluck, through the website at www.westcascade.org, or directly by emailing your request to info@westcascadepca.org. In this latter case you'll be able to pick up calendars in Eugene and thus avoid paying for mailing.
U of O PC recruiter, Hannah Klausman, organized the Peace Corps information booth at the annual Street Faire on the U of O campus, October 5-7. Hannah reports that many people stopped at the booth to inquire about the Peace Corps and pick up PC literature. Several U of O students and WCPCA members helped staff the booth. Lisa White, a Peace Corps recruiter from the Seattle office came to Eugene to help out as well.
On Friday evening, October 7th, at the conclusion of the Street Faire, WCPCA held a potluck at the Wesley Center, which is next to the campus, to welcome RPCVs returning to the campus and students who are interested in learning about the Peace Corps. Approximately thirty people attended. Our guest speaker, Enrique Fernandez, a Cuban-American, gave us an intriguing view of Latin American culture in the US in a talk entitled, "Latinoamericano/Latino American:The Hispanic Challenge, The Peace Corps Response".
The Next Step in Changing the World
A message to all members of The National Peace Corps Association Social Network
That is one of the questions that are frequently asked of staff at the National Peace Corps Association. In other words, how do I find a volunteer who served in Botswana or Paraguay / who speaks Fulfulde / who went to grad school after Peace Corps / who lives in my town?
The answer: The National Peace Corps Association Ning Social Network. You've already created your profile on the network, so that you can search for people in the Peace Corps and people can find YOU.
Why not take a second right now to add a picture to your profile if you haven't already? How about joining one of the over 400 groups that have been formed on the site for specific countries of service and areas of interest? Even if you didn't serve (YET!), you can connect with the many individuals who are passionate about the Peace Corps and its values. Tell your friends to join, too! (It's really easy - just log into your profile and click "invite" in the upper right hand corner.) The more people on the site (and we are 24,000 strong!!), the more vibrant this community will be, and the easier it will be to answer that question ... where can I find someone? See you online!
Molly Mattessich (Mali 02-04)
Manager of Online Initiatives
National Peace Corps Association
Visit The National Peace Corps Association Social Network at: http://community.peacecorpsconnect.org/
Below you'll see the slate of nominees for the 2012 WCPCA board of directors. The slate was organized at the current board's request by Jim Beyer acting as the nominating committee. The membership will vote on the slate at its annual meeting which will be at the potluck on December 2nd. The election will be by voice vote and will follow a brief annual report for 2011 that I will make to the membership. The full annual report will be available shortly on the website. The new board will serve for the 2012 calendar year.
All of the officers on the slate are continuing from 2011. Among the "at large" board members two are continuing and one new person, Josette Green, is joining the board. Four current "at large" members are retiring.
Jim presented this slate to the current board at its October meeting and the board accepted it with gratitude for his work. The board thanked retiring members, Nick Bosustow, Jack Meacham, Wayne Thompson, and Bob Watada for over thirty years of collective service on the board. They will be missed.
I want to call to the membership's attention to recent activities of the retiring board members. Nick helped organize WCPCA's participation in the Eugene Celebration parade this summer. For the last two summers Bob and his wife, Rosa, have hosted the membership at delightful poolside summer picnics at their alpaca farm in Pleasant Hill. Jack served as the board treasurer for two years. Wayne was a co-organizer of the March 1st events of this year to celebrate the Peace Corps' 50th anniversary. To our good fortune the retiring members all plan to stay active in WCPCA and participate in coming events.
Listed below is the slate of nominees for the 2012 board and following that in alphabetical order are brief biographies that will introduce those on the slate to the WCPCA membership.
I'll close by encouraging WCPCA members to attend board meetings and to feel free to suggest to me agenda items that they would like to have discussed a few days in advance of the relevant board meeting. All board meeting minutes are posted on the web. The board would like the membership to stay in touch and let us know your ideas and suggestions for WCPCA's activities.
Submitted by Dorothy Soper
Proposed slate of 2012 board members:
Dorothy Soper, President
Maggie Keenan, Vice President
Miriam Aiken, Secretary
Dale Morse, Treasurer
Felicia Kenney, Communications Coordinator
At large members:
Keith Beyer
James Cloutier
Josette Green
Ex officio member:
Hannah Klausman, Peace Corps Recruiter, University of Oregon
Biographies of members of the slate for the 2012 board:
Miriam Aiken:
I had never been more than 200 miles from home until I made the journey via the Ohio Turnpike from East Palestine, Ohio to Bowling Green State University. In my senior year, one of my professors asked a Peace Crops recruiter to address my sociology class, and, since I had no job prospects, and I wanted to expand that 200-mile geographic envelope, I applied based on his assurances that "if he could do it anyone can." I was as surprised as my roommates, friends, high school teachers, and parents (especially my mother) when I received an invitation from Sargent Shriver to attend training as a Peace Corps Volunteer in the Philippines.
After graduation (BGSU, B.A., Sociology), and Peace Corps training at San Jose State College, I was assigned to Ozamiz City, Philippines, on Mindanao, as a teacher-trainer in elementary TESL and math (1965-1967). After a 3-month return trip around the world in the opposite direction from Ohio, I moved to the District of Columbia where I worked over the next 40-plus years for private social science research organizations including the National Association of the Deaf, TransCentury Corporation (for Warren Wiggins, a senior advisor to Sargent Shriver in the early days), and, finally, Westat.
In the 1970s, I was a member in RPCVs of Washington, DC as the membership chair and vice president. In 2010, I moved to Eugene due mostly to the influence of Beryl Brinkman and FoB (Friends of Beryl).
Miriam is currently the board secretary.
James Cloutier:
I am a second generation Oregonian having been born in Portland. I attended five different elementary and middle schools and 3 different high schools, all in Oregon. After graduating from Lincoln high school in Portland and serving two years in the Navy, I attended the University of Oregon on a baseball scholarship.
During the summer of 1962, prior to my fifth year at the U of O, I spent two months in Ethiopia with a non-profit student organization, Operation Crossroads Africa. This experience ignited my desire to return to Africa which I did in 1964 as a member of the first Peace Corps contingent to Kenya. During my two year tenure in this East African country, I created and oversaw an audio/visual department connected to the government's Ministry of Lands and Settlement. My responsibility entailed the production of agricultural teaching materials, i.e. posters, brochures, etc. designed to assist African settlers who were moving back onto the lands appropriated by the English during their colonial reign.
Following my return to the U.S. in 1967, I worked for six months as a Peace Corps recruiter before entering graduate school at the U of O. I received a Master of Fine Arts degree in 1969 and have been a practicing artist since then. My artistic achievements include 11 self published books, the first of which was my Master's thesis, a b/w photographic essay on the Alpine Tavern. The majority of the other publications featured cartoons about Oregon. Presently, I am free lancing as an illustrator/cartoonist here in Eugene.
James has been a board member for many years and recently served a year and a half as president. He's created many tee shirt and sweatshirt designs for WCPCA including this year's design for the 50th anniversary tee shirt.
Electing The WCPCA Board Of Directors For 2012 (continued)
Josette Green:
Josette Green has had a long career in providing opportunities for our citizens to complete their educational goals. With a career in Ohio, Florida and Georgia, she is happy to fulfill this passion now as Executive Director of the Oregon Student Assistance Commission in Eugene - a position she accepted a year ago.
Adventuresome is a word to describe Josette as she travels in pursuit of visiting all countries in the world, ran for US Congress in 2000, completed a ministry program also in 2000 and experienced a stint in the Costa Rica with the Peace Corps in 2007-2008. An expert in little but an experiencer of much. She holds a BA in Business from Adrian College in Michigan, an AAS from the Fashion Institute of Technology in NYC and a MBA in Finance from the University of Akron in Ohio.
Josette will work with Maggie and Hannah to plan and make arrangements for the programs at the potlucks.
Keith Beyer:
I was raised in eastern Iowa and attended college there, 1954-1958. I taught in elementary schools in Illinois, Germany and Japan before earning a Master's Degree in 1968. Then I settled into a community college career in Wyoming and after retirement, my wife and I became Peace Corps Volunteers in Poland, 1994-1996. The PC became addictive and we also ventured into further tours in Thailand, 1998, and Russia, 2001-2002.
Keith works on the board with Felicia to do research for, write, and publish the newsletter.
Maggie Keenan:
Maggie Keenan is Communications Director at the Environmental Law Alliance Worldwide (http://www.elaw.org). She is also an Adjunct Professor with the University of Oregon's International Studies Department. She holds a Master's in Professional Studies in International Agriculture and Rural Development from Cornell University. She served for three years as a Peace Corps volunteer in the Philippines and worked for three years in Uganda as a consultant for the Uganda Wildlife Society, the Joint United Nations Programme on HIV/AIDS, and various USAID-funded maternal health projects.
Maggie has been a board member for several years most recently as Vice President.
Felicia Kenney:
Felicia Kenney is a former computer programmer and web developer, who has been in charge of the WCPCA's website for about five years. She has a music podcast (5songset.net), is involved in Ham radio and loves cross country skiing.
Felicia works with Keith to organize, edit, and publish the WCPCA newsletter each month and also maintains the membership database.
Hannah Klausman, RPCV Mongolia '06-08, TEFL
Eugene Native. Grew up in Eugene and attended the Japanese Immersion School "Yujin Gajuen" for 12 years. Graduated from Lewis & Clark College in Portland with a degree in International Relations and Japanese. Currently pursuing a Masters in Community & Regional Planning at the Univ. Of Oregon.
After Peace Corps I also served as an Americorps volunteer for 2 years in Newport OR, serving as the Executive Director of the Buy Local Lincoln County Association, a nonprofit aimed at local small business development.
Hannah is beginning her first year as a graduate student at the University of Oregon and as the university's Peace Corps recruiter.
Dale Morse:
I was born in Eugene while my father was a student at the University of Oregon. After growing up in Spokane I returned to Eugene to play tennis, party and attend a few classes. When confronted with the choice of Vietnam or the Peace Corps, I sought out Tom English, the PC representative on campus, and followed him to Nepal as a member of Group 21 in 1969.
I taught science and math in a high school in Nepal and worked on a program to improve practical training in science education. Upon returning to the US, I got a little more serious about school and received graduate degrees from Oregon (where I was the PC representative in 1974/75) and Stanford and commenced teaching at Cornell for 13 years before returning to teach at the University of Oregon in accounting. I have also had the opportunity to be a visiting professor in many countries in Asia, Africa, and Europe. I am married to Leslie Mittelberg, who owns Swahili Imports, an African importing business and sometimes follow her around Africa. We have two grown boys.
Dale is currently the board treasurer.
Dorothy Soper:
I grew up in California and with my husband moved to Eugene over 30 years ago. Our son and daughter grew up in Eugene and are now an attorney and physician living in Washington DC and Los Angeles. We're pleased that they are both globally minded. Our son is an RPCV (Ethiopia 1998-99, Morocco 1999-2001) who specializes in immigration law and our daughter regularly uses both French and Spanish to talk to her patients and their families.
I joined the Peace Corps in 1963 after graduating as a French major from Stanford where early interest in the Peace Corps was intense. As a PCV in Ghana I taught French in a public boarding high school in a rural setting. At the time PCVs were the primary college educated staff of such schools since Ghana's first president, Kwame Nkrumah, had opened approximately 30 of them in 1961, just in time for the PC. As the only female faculty member at my school I was placed in charge of the girls' dorm. The girls were my teachers when it came to understanding Ghanaian life. I maintain friendships now with several of them and have been thrilled to see them on recent visits to Ghana. Through email and Facebook I'm in touch with their children.
After the PC I received an MA in African history at UCLA. Since then I've worked in education often including the teaching of French and African history. I've retired from 4J as an elementary school teacher, am active in local organizations, and remain a student of African history.
Dorothy is a longtime member of WCPCA and has served in several board offices. She is currently the president.